Learn the art of alignment through Qigong practice.
Living Aligned Qigong Training is an experience-based self-cultivation and professional certification program designed to teach the art of alignment through Qigong movement and meditation.
In this training, you will learn:
Mind-body practices for health and wellbeing, improving mental focus and clarity, physical strength, emotional balance and spiritual connection.
Psycho-spiritual, emotional and energetic foundations of Qigong, Chinese and Daoist Medicine.
How to apply, teach and utilize Qigong theory, movement forms and alignment practices in your professional realm.

Suzannah Stason DTCM, CMQ, CQT is a Doctor of Acupuncture and Traditional Chinese Medicine and Certified as a Medical Qigong Practitioner, Qigong Therapist and Integral Qigong and Tai Chi Teacher. Dr. Stason is currently the Director of Medical Qigong at AIMC Berkeley and has been teaching and training people in Qigong since 2010.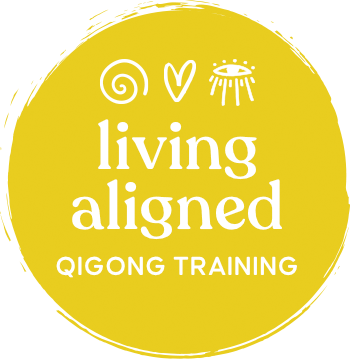 Starting online Sept, 2023! Registration Coming Soon.
Self-Cultivation Program
This 90-hour training is open to anyone interested in learning Qigong as a self-healing and transformation practice. You will learn the foundations of Qigong, its principles and health benefits, as well as the inner alchemy of practice. All while learning and growing with others!
Professional Teacher Certification
This 200-hour training is for those interested in applying and teaching Qigong movement and meditation as a Qigong teacher, health-care practitioner, coach, facilitator or therapist. Upon successful completion of this program, you will be a Certified Qigong Teacher (CQT) and gain the skill, confidence and experience to share these practices.